Olympics
Sochi 2014 Olympic Hockey: Canadian Glory
Another Olympics and another Canadian hockey gold. Aside from a silver at their debut in 1998 games in Nagano, Canada has won all other hockey gold in women's hockey at the Olympics. They are an impressive team lead by hockey goddess, Hayley Wickenhauser, who has played in each Olympics since its debut. I planned my Olympic adventure for many years and made sure I got my hockey gold ticket. These are the best pictures as I usually take as I was very into the game and quickly snapped a few.
Once again, the two best teams in the world, Canada and the United States, were expected to plow through the Sochi 2014 Olympic Hockey tournament with ease and make it to the gold medal game. Aside from one upset by the Swedes in 2006, the gold medal game has been contested by Canada and the United States. While the Swedes and Finns are improving, it is still a two nation sport.
In Sochi, the Americans lost to the Canadians in the round robin but it was a close game which set the stage for an exciting and magical gold medal game. I had travelled a very long way to watch this game and was expecting a thrilling game.  In fact, 2014 had a more exciting and dramatic finish to the game than Canada's victory in 2010. It even rivaled Crosby's overtime goal on home ice at the Vancouver 2010 game (yes I was there)!
It was another tight and interesting game. First period was tight with lots of penalties but no scoring. Americans scored in the second and early in the third. As the clock ticked down, it was looking more and more likely the Americans would win their first gold medal since 1998. However, Canada did not give up. With under four minutes to go, Canada finally scored and the crowd had something to cheer for finally. The Russian fans were cheering along with us Canadians. I think the Canadian fans outnumbered the Americans 2-1 already so with the Russians, the arena was overwhelming rocking in favour of Canada.
Down one goal and with less than two minutes to go, Canada pulled the goalie to get an extra attacker on the ice. The goal was empty and the Americans ALMOST scored. It hit the post. Wow!! And then not long after, Canada tied it up and we were going to overtime.
Canada took a penalty in overtime but it was negated quickly when the American took one themselves. Teams played 3 on 3 for a short spell until the Americans hauled down Wickenhauser who was on a breakaway. It probably should have been a penalty shot but no worries, Canada took the powerplay and didn't look back. Marie-Philip Poulin scored the golden goal (and the tying goal) and the arena went nuts.
I am four for four for hockey gold medal games: two in Vancouver and two in Sochi. The two best, men in 2010 and women in 2014, ended up in overtime victories (thank you Poulin and Crosby). I must be Canada's lucky charm. See you Pyeongchang in 2018.
You might also be interested in:
Sochi Olympic 2014 Opening Ceremony
Men's Sochi Olympic Figure Skating Long Program
Men's Hockey Gold Vancouver 2010 Olympics
Hockey Gold
When Vancouver was awarded the 2010 winter Olympics, the most important event to snag tickets to was the men's hockey gold medal game. Everyone in Canada wanted that ticket: hockey gold was the only thing that mattered. Canada had recently won its first men's Olympic gold in 2002 in fifty years but to win on home soil would be a great accomplishment. During planning my Vancouver Olympic adventure, the hockey gold medal game was on my mind. I set up three accounts for me, mom and dad. I submitted my main request on my account and the two gold medal games for the men and women on my parent's account. I was hoping to hit one.
Getting Tickets for Hockey Gold
Ticket demand was so high for the Vancouver Olympics, a lottery was held for 120 of 170 events.
There was 140,000 requests alone for the men's hockey gold medal game out of a possible of 4000 tickets in an arena that had about 13,000 tickets available. The rest went to the media or sponsors.
During the initial ticket request, you submitted your request plus an alternate for that day/time. I submitted about $7500 in my original ticket request. I ended up with only 10% of my original request. I did not know how many other opportunities there would be to buy tickets. For my most recent trip to the Sochi Olympics, I posted my tips for planning an Olympic spectator trip and how to get tickets.
During my original request, I was lucky enough that my mom won the lottery and received a ticket for the men's hockey gold medal game.
During the next year, I was able to get tickets to the women's hockey gold medal game to go with the men's game. Leading up the Olympics, I was unsure if I would sell the ticket or gamble and hope Canada would make the final. I could probably have sold it for $5000 or more but I decided to hang in and wait. I could always sell during the games if Canada faltered.
Canada had a slow start at the Olympics, worrying the whole country. The media were particularly wrapped up in the "Canada has never won a gold medal on home soil" narrative while the rest of the country was not; we wanted medals but didn't care that gold had never happened in 1988 Calgary nor 1976 Montreal. We knew it would happen. In the end, Canada would finish first on the medal count: gold medal count is the one that matters according to the IOC and most countries (except the US of course); Canada broke the record of total gold medals with 14 (Russia failed to break that number in Sochi).
I arrived in Vancouver during the second week. After attending a few events, I had grabbed a last-minute ticket to the men's quarterfinal hockey game. Canada had a rough round-robin and had to beat a qualifier to make that game but I was pretty sure they'd take out the pesky Germans, which they did. They would face the Russians in the quarters, a match that should have been the final. The Russians are our hockey nemesis; sorry America, you are not. I wanted to beat Russia for gold!
Canada came out like a team on a mission against the Russians. It was complete domination; surprising considering the Russian lineup but Canada had just as much firepower and came out on top 7-3.
Canada played Slovakia in the semi-final. I did not get a ticket to that game (I had one for the other semi-final but sold it). I figured Canada would domination Slovakia easily and I'd be waiting for them in the gold medal game. Yeah that game was too close for comfort and Canada squeaked out a 3-2 victory. I made it back to my hotel to watch the end of the game as I was watching Canada choke in the women's curling gold medal game.
My patience had FINALLY paid off: I would be attending the gold medal hockey game as Canada went for gold against the USA. USA had ridden their hot goalie Ryan Miller into the gold medal game, shocking pretty much everyone who didn't think they stood a chance. Hot goaltending can shake up predictions!
Canada vs USA – Hockey Gold
I had the men's hockey gold ticket for over a year. I resisted the urge to sell. I had planned to attend the game all along; I knew Canada had to make it. It was the only option. Of course, I would have sold the ticket in a heartbeat if Canada had succumb earlier but my persistence paid off. I had the hottest ticket in the land and soon, I would watch one of the most exciting hockey gold medal games , ever! It would be one of the most important hockey victories in Canadian history: I still place it behind Paul Henderson's sweet goal against the Soviets in 1972 Summit Series but winning hockey gold on home soil is a pretty damn close second. I wasn't even alive during the Summit Series and I still place that as number one!
I was in the lower bowl, behind the American net and near the suites. Mmm hey is that Vince Vaughn? Get your tissues ready Vince, you will need them soon!! I was sitting beside an American couple who were great. We had a great time watching the game together. They owned some football team (NFL) and I can't remember which one. But great people though….
It was a tight game: Canada scored first and then second. It was a nice 2-0 lead midway through the second. But the US got on the board before the second period was over. The third period was nerve-wracking and of course, the Americans tied up the game with seconds to go. Overtime was needed and hopefully it would result in a victory. NO ONE wanted this to go to a shootout; North America hates international hockey rules like this. Let them play it out.
Canada has bad memories of shootouts: see 1994 gold medal game and 1998 semi-final. International hockey allows for a shootout after so many minutes of overtime. In North America, there is no way we'd allow a Stanley Cup final (or any game in the playoffs) determined by a shootout. Hopefully it would not come to that in Vancouver.
Of course it did not. From the drop of the puck in overtime, Canada turned it up and dominated. I had NO DOUBT they would score, and score they did seven minutes into overtime. Jarome Iginla passed to the best hockey player in the world, SIDNEY CROSBY and he put it home.
I cannot describe the utter joy of that moment: Canada winning on home soil. Hockey gold and I had held onto that ticket for over a year. I had planned this trip for seven years with this moment in mind the whole time and Canada was victorious!!
Over two-thirds of the country was watching and I was there in person. The country completely freaked out and I love it. There was a time that Canada was not an Olympic favourite in any sport: we didn't hit double digits in the 1980s nor win very many gold medals. Each Olympics saw an improvement in medal totals: 0 gold in Calgary; 2 in Albertville; 6 in Nagano; 7 in Turin; 14 in Vancouver.  Total medals keep rising each year: from 5 in Calgary to 26 in Vancouver.
I think we like hockey: check out Canada's reactions to hockey gold!!

Hockey is our favourite sport and winning on home soil meant the world to every single Canadian. Of course, winning on Russian soil was pretty great as well. Too bad the Russians didn't show up in Sochi. 🙂
What is your favourite Olympic sport?
I have been a spectator at the last three Olympic games but nothing can top attending your home Olympics. When Vancouver was bidding to host the 2010 Olympics games, I had decided I would do anything to attend the games if they won. Happily, their bid won the games and I started planning my first Olympic adventure: the 2010 Vancouver Olympic games.
Bidding Process: 2010 Vancouver Olympic Games
The final candidates: Vancouver, Canada; Pyeongchang, South Korea; and Salzburg, Austria. Voting was held on July 2, 2003 and would be a very close race. I was living in Winnipeg, Manitoba and watching the vote live. I thought it was a race between Salzburg and Vancouver. They had the two best bids but you know these bids can get quite political. The best candidate/bid does not always win (see Toronto for 2012 summer games) and this was not long after the Salt Lake bribery scandal.
Voting for the 2010 Olympic games included two rounds of voting. Salzburg was eliminated after the first round (my head almost exploded) and Vancouver finished second to Pyeongchang with 40 votes to their 51 votes. Vancouver cleaned up in the second round of voting and won by a vote of 56 to 53. What a close race!! The 2010 Vancouver Olympic Games would be a great experience and after waiting for seven years, it was worth all the time I put into planning this trip.
I ended up moving to Edmonton, not long after Vancouver won their bid, for graduate school. I had a chance to move to Vancouver or Toronto but I chose Edmonton instead. I then spent the next seven years planning my Olympic trip. Since there was such a demand for tickets, a lottery would be assigned to the most in demand tickets (hello hockey) and I spent the next few months hoping for a win. I had submitted a ticket request for the entire Olympics but was not allocated my entire request; only receiving 10% of my original request. Thankfully there would be more opportunities to purchase tickets as more were released several times and they put up a reselling website.
Planning the Vancouver Olympic Games Trip
I posted about planning your Olympic spectator trip adventure for Sochi, Russia 2014 trip of my dreams which include the Men's Figure Skating Sochi 2014 recently but used many of those tips for this trip as well. I had waited five years to submit my Olympic ticket request. I had just returned from Germany (Berlin travel tips) in October 2008 (including visiting Heidelberg, top travel tips) and was thankful the deadline had been pushed back a few weeks. I submitted by request and waited a few months to hear back. I also created accounts for my mom and dad (in case they wanted to go) and to give me a few more chances at the men's hockey gold medal game.
I remember being at work and wondering what tickets I had been allocated. They charged the credit card before the emails were sent so I had no idea what tickets I received. I phoned my mom and she checked her card and a certain amount had been charged: I knew right at that moment it was my men's hockey gold medal game. What a thrilling moment!!
I booked my hotel nine months before the Olympics and my airplane ticket about six months before the event. Vancouver had lots of hotels so that was not an issue as it was in Sochi.
Now I had to wait a year and a half until the Olympics, hoping that Canada would make the finals. Thankfully they did and I was rewarded for holding onto that gold medal ticket for over a year and a half. I also had tickets for the women's gold medal hockey game as well as both curling gold medal games. Canada went three for four in the gold medal games. For the next few weeks, I will post about all the events I attended in Vancouver.
Have you attended the Olympics?
Sochi 2014 Figure Skating: The Men
When I decided and started to plan my Olympic adventure, it was a trip of a lifetime (Russia and Czech Republic) which included the Sochi 2014 Winter Olympics, one of the events I made sure to get a ticket for was the Sochi 2014 Figure Skating in the men's category. Canada had the defending three-time world champion and number one contender; a coronation was waiting for Patrick Chan. Unfortunately, Chan did not skate to his fullest abilities but was able to hold on for a silver medal. After enjoying the Opening Sochi 2014 Ceremony and two alpine Olympic events (men's downhill and super G), I was ready for some ballet on ice. 
As a child, I loved figure skating. I took lessons. I was an okay skater but wasn't a fan of falling on the ice. I eventually stopped after my figure skating coach left to marry an NHL hockey player (very Canadian of her) but I never stopped watching. I was cheering on the right Brian in the Battle of the Brians at the Calgary Olympics (the right Brian is of course Brian Orser….hehe). I cheered for Viktor Petrenko in 1992: I was a very bad Canadian that year. 🙂 I cheered on Elvis Stojko in 1994 as he was robbed by the judges (yes he was). I loved the Russian Alexei Yagudin in 2002. I was in the arena for Canadian and Olympic bronze medalist Joannie Rochette's emotional short program in Vancouver 2010, just days after her mother unexpectedly passed away. I had to be in the arena for men's figure skating in Sochi.
It was a night of disappointment and set the stage for an interesting figure skating competition at these Olympics. Interesting in terms of major upsets and some very dicey figure skating judging in the women and ice dancing categories, which is nothing new to the figure skating. Sochi 2014 Figure Skating was no different from past Olympics.
Russian and 2006 Olympic champion Evgeni Plushenko withdrew before the short program which saw Russians trying to ditch their tickets. I already had a ticket but was offered tickets numerous times from my cruise ship to outside the venue.
Patrick is one of the greatest male skaters in history. Three straight world championships set him up for the Olympics: he could be the first Canadian man to win an Olympic figure skating gold. Canada has churned out some of the greatest male figure skaters in history: from two-time Olympic Silver Medalist Brian Orser to four-time World Champion Kurt Browning to two-time Olympic Silver Medalist Elvis Stojko. Canadian men have been the first to land the triple axel, the quad, the quad in combination…..it is a great history! However, none have won Olympic gold.
There has been many silver medals but it appeared Chan was one step away from making history. After his biggest competitor, Japan's Hanyu, fell twice in his program, the stage was set for Patrick Chan to grab the gold medal. He started strongly with the quad but over-rotated the triple axel, his nemesis jump. He continued to make little mistakes throughout his program which was not enough for gold. He lost by half a point which is very close considering he was down by five after the short program.
Chan left Sochi with two silver medals; the other silver from the new team competition. He joined Orser, who was Hanyu's coach in Sochi and who lost the gold medal in 1984 because of compulsory figures, that aren't used anymore, when he won the short and long program (robbery in other words), and Stojko (another robbery in 1994 when the judges didn't like his non-classical style) in the double silver category. It is still an accomplishment but you wish he would have seized the moment: it was set up for him. Will he return in 2018? No one knows yet.
Are you a fan of figure skating? What was your favourite Olympic moment?
Speed Demons: Alpine Skiing Sochi 2014
I could not snag a ticket to any of the alpine events in Vancouver 2010 so I made sure to make getting a ticket (details on my Planning your Olympic adventure article) a priority (after hockey of course) for Alpine Skiing Sochi 2014. I was lucky enough to get tickets for both the Men's Downhill and Super G races. Canada had not medaled in alpine skiing in twenty years; we also had a couple contenders for the podium so the races would be more exciting.
First I started the LONG trek from my cruise ship hotel (more on that another day). I had to take a shuttle from the port to the train station, train up to Krasnaya Polyana, bus further up the mountain, a looong ride on a scary gondola, and finally a few stairs (just 200-300) to get to my seat. The process took about two and a half hours; yes I was exhausted by the time I sat in my seat. Badly done Sochi!!
I made it up the mountain and had a great time. For the Men's Downhill, I wore all my winter gear. Coat, boots, mitts, scarf – it was way too warm for any winter gear as you can see below. I was boiling! I rectified that for the Super G. The weather was heating up and for the Men's Super G, so were our Canadian men! Alpine Skiing Sochi 2014 – bring it on!!
The Men's Downhill was a good race; although many of the contenders did not medal including our Canadian Erik Guay. He won races leading up to and the week after Sochi 2014. However, I had fun sitting near a whole bunch of Canadians and we cheered loudly for everyone! Austrian Matthias Mayer won, surprisingly, with Christof Innerhofer of Italy and Kjetil Jansrud of Norway in silver and bronze respectively.
The Men's Super G turned out to be the most exciting race. I thought it would be the Men's Downhill and I almost did not buy a ticket for the Super G.
Once again I make the LONG trek up the mountain. This time, I had something to cheer for…..Jan Hudec! Our first alpine medalist in TWENTY YEARS! Jan tied for bronze with Bode Miller of the US. It was an exciting race; Hudec and Miller were in silver for a short spell but hung on for bronze!
Hudec is a story of perseverance: leaving his native (then) Czechoslovakia thirty years ago secretly in a boat his father put together himself; seven knee surgeries; and back issues that sidelined him a month before the Olympics. The lucky loonie wins again! Jan Hudec hid a loonie at the finish line
While nothing can ever really top Olympic hockey gold, this sure comes a VERY close second. Too bad they did not hand out the medals right there; I could not go to the Olympic park when they did as I had another event. I only have a few pictures of the men's super G; I was WAY too busy cheering and screaming. I screamed myself hoarse. 🙂
Great moment for Canada at the Olympics by a great Canadian! I'm glad I was there to cheer for Hudec and the entire Canadian Cowboys! Nicely done!
Have you been to an Olympic games? What was your favourite moment?
You might also be interested in:
Sochi Olympic 2014 Opening Ceremony
Men's Sochi Olympic Figure Skating Long Program
Men's Hockey Gold Vancouver 2010 Olympics
Olympic Adventure: a trip of a lifetime to Russian Olympics in Sochi! If you ever get a chance to attend an Olympic games, I thoroughly recommend that you make it happen. It will be the best time of your life. You might ask yourself: how do I attend the Olympics as a spectator? It is a lot of work and yes it will take months and maybe even years to plan. However, the end result is one of the most rewarding experiences of your life: pure joy along with heartache and a chance to cheer for your country while you meet great people from around the world.
Planning Your Olympic Adventure
1. Tickets
I recommend purchasing tickets before you make any other plans such as flights and hotels when planning your Olympic adventure. Your nationality or country of residence will determine the next step. For the most recent games in Sochi, Russia, Russians and anyone residing in Russia could purchase tickets through their main website, sochi2014.com. The remainder of the world had to go through an official ticket agency or reseller: each country was assigned to one. Canada, United States and several other countries were under http://cosport.com/.
UPDATE: CoSport remains the ticket re-seller for many nations including the United States. Canada, however, has opted to make a change and now tickets for the Olympics are available through ATPI Sports Events. They are all live sales, no ticket request submissions and then an allocation later. It is live and chaotic. However, I appear to have some luck and have secured tickets to both hockey gold medal games again along with some figure skating for men/pairs/dance, snowboard, curling, speedskating, skiing, and so on. I am still trying to get the men's big air or men's curling gold tix. Those are the two remaining tickets I am trying to secure.
I purchased my Olympic tickets for Vancouver through their main website (vancouver2010.com) while purchasing tickets for London and Sochi via CoSport. My guess is Rio and Pyeongchang will follow suit with CoSport but nothing has been announced yet. Keep an eye on the Olympic websites for each host nation.
In both cases, you will submit your ticket request. The process has differed slightly for each Olympic games so I will focus on Sochi, my most recent Olympic experience. I submitted a ticket request to CoSport. I was not charged immediately. The first step was an 'expression of interest' where I listed which events I wanted, how many tickets and which price category. A month or two later, I received word on which tickets were available and I was able to purchase at that time; I could change my mind during the checkout process such as delete tickets I did not want anymore. I could not add to my request or change the price category level.
You don't get just one shot at it either. Tickets are released numerous times during the year. I learned this the hard way with the Vancouver Olympics: I thought there was ONE opportunity so I booked my flights and hotels around my original ticket allocation. Remember, there are MANY opportunities to buy tickets: either others declined to purchase, sponsors have returned tickets, etc.
I have bought tickets for some very big events: men and women's hockey gold medal games in both Vancouver 2010 and Sochi 2014 (the marquee event of the Winter games); men and women's curling gold medal games in Vancouver and Sochi; men's downhill in Sochi; Sochi Opening Ceremony; men's 200 m in London; Vancouver Closing Ceremony. How did I get that lucky?
It is not luck. You must check the websites constantly for either new tickets or information on when more tickets will be released. Be vigilant.
One of the tricks that worked for me was creating multiple accounts for the original ticket allocation: I added an account for my mom and one for my dad. I added big-ticket events to their request as well as to my own. Maybe they'd want to come to the games with me? Or maybe they can give me their tickets? I hit the men's hockey gold both times using this method (my mom is very lucky).
If you did not get tickets in the original allocation or even in the subsequent releases, do not worry. There are other opportunities. Both Vancouver and Sochi had a ticket reselling website (London did not) so you could sell and buy tickets officially; I liked this since I knew the tickets were legitimate. I would be very apprehensive of buying through a non-official source.
Finally, if you want to take the risk, you can try scalpers. Each Olympics will have different rules according to their games and country. Russia had scalpers hanging out right in front of the venues or just other people wanting to sell tickets. I never bought tickets that way but I almost did a couple of times; I declined due to time constraints on my schedule.
So keep an eye on the main website for the Olympics you wish to attend and sign up for any newsletters.  Rio 2016 and Pyeongchang 2018 are the next Summer and Winter Olympics.
For the last three Olympics, tickets went on sale or the process started about 14-18 months before the event but keep a close eye on their websites. Russia was very slow to post information while London and Vancouver had a great deal of information on their websites years before their games started.
2. Hotel and 3. Flight
I normally book my hotel and flight around the same time or I'm researching them at the same time when planning my Olympic adventure. For Vancouver and London, this went smoothly and there were plenty of hotels to book in both locations. I had no issues with both cities; I booked my hotel about a year out and my flight about six to eight months from the Olympics. Russia was very different: they had hotel issues and it was difficult to book anything. I booked about six months to go and that made me nervous.
My policy for booking a hotel is always location, especially during an Olympics. You want to be near the metro or public transportation so you aren't spending extra time walking especially if it is late at night. You will need to save your energy: usually the venues are spread-out and you will walk your ass off (yes London and Sochi).
Flights are usually the easiest to book: it'll depend on your hotel booking or the dates you wish to attend. It will depend on price, how many stops, and whether you are going anywhere else as I did when I went to London (D-Day Beaches in Normandy, France) and Sochi. Here is a link to my article on finding cheap flights: that applies to any flight booking.
Be prepared to pay more for flights and hotels during an Olympics. You can stay in hostels, bed and breakfast or couch-surfing to save money. Prices increase during the Olympics; my guess is 25-40%. I prefer staying in hotels and staying in a good location so I book early. Booking flights later is probably fine; I had issues with my Russian trip as flights were limited in/out of Russia on the prepared days/times so always keep that in mind.
Update: It has been a bit tougher trying to find accommodation for PyeongChang. I am in a couple facebook groups where people are posting tips. However, there is plenty of time so I am not worried. Check with TripAdvisor for tips in the travel forum section. That is how I discovered the cruise ships moored in the port for the Sochi Olympics. 
4. Visas
Do you need a visa? Of course this will depend on your country of residence but make sure to check into this and how long it will take. For Sochi 2014, I submitted my Russian visa application in November just to give myself extra time before flying to Russia on January 31st.  Canadians and Americans need a visa for Brazil but do not need one for South Korea.
5. Immunizations
Check with your local health provider to see if you need to update any of your shots or need new ones. I updated some of mine before Russia and got the Hep A/B combo shot just in case. Your travel health clinic can tell you which ones you need. Maybe you also want to bring along something for traveller's diarrhea so your Olympic adventure doesn't turn into a disaster.
6. The Language
I always recommend learning the language of the country you are visiting. While you may not be able to learn all of it, you should at the very least learn a handful of phrases such as asking for directions, ordering food, please and thank you. The locals will treat you better if you know just a few phrases. But go further than that; learn more than just thank you. It is rewarding to learn a new language.
7. Insurance
Don't forget to purchase medical insurance if you do not have it already. I am lucky that I have it through my work and it covers any trips I take around the world. Also you will need trip insurance: make sure it includes cancellation or interruption, baggage lost, flight accident, or whatever you wish to include. I usually get one that covers everything since the price is usually reasonable. Check whether it includes catastrophic events and all fine print. These are big and expensive trips: do not live on the edge.
These are the top things you have to keep in mind when planning a trip to an Olympic games; your Olympic adventure will be filled with excitement if you take care of everything before you go. Other things may pop up so that's why I have recommended that you pay close attention to the Olympic host city website and sign up for those newsletters. Each Olympic procedure may differ from the previous one so keep an eye on it.
Sochi 2014 Opening Ceremony
First up for me was the Sochi 2014 Opening Ceremony! After spending five days in Moscow, I finally made my way to Sochi for the 2014 Olympic Games. I have been planning this event for four years; I made the decision to attend the Sochi 2014 Olympics after having a great experience in Vancouver for the 2010 Olympics. I then attended my first summer games in London. Sochi is my third Olympics in a row; I will be skipping Rio 2016 but am consider Pyeongchang 2018.
I did not have a ticket for the Opening Ceremony in Vancouver nor London so I made sure to do whatever it took to get the Sochi 2014 Opening Ceremony ticket. I had no problem and while I had to spend a great deal of money, it was worth it to see the show that the Russians put on for the world. It was spectacular.
I wish my flag wasn't so wrinkled.
The Sochi 2014 Opening Ceremony started by reciting the Russian alphabet and a famous landmark or Russian. I LOVED the showcasing of the Cyrillic alphabet and listing prominent Russians such as Tolstoy, Dostoevsky, Pushkin, Catherine II the Great, Tchaikovsky, Gagarin and many others. The Russian poets and writers are some of the best in history; I wish more people would pick up a Tolstoy novel or a Pushkin poem.
Five large snowflakes appeared and expanded to create the Olympic rings. Oops, one snowflake didn't open and the rings could not be illuminated by fireworks….not really a big deal but apparently while the spectators in the stadium and many around the world saw the mistake, those watching on Russian television did not as the Russians hastily replaced this section with one that worked from dress rehearsal. I had my camera at the ready and snapped the infamous mistake. 🙂
Aside from the snowflake snafu, the remainder of the Sochi 2014 Opening Ceremony was flawless. From a men's choir singing the Russian National Anthem to hundreds of volunteers dressed in their flag's colours, it was beautiful.
The troika is a three horse carriage and the traditional method of transportation for Russians in the 18th century; it is also a literary and cultural symbol that was used in Gogol's Dead Souls, a Russian masterpiece.  Missing from my photo: the troika was pulling the sun. If you look at the bottom left, you can see miniature St. Basil's Cathedrals that would inflate and be used in the next section.
And the best moment of any Opening Ceremony: the Parade of Nations!! Greece enters first and Russia as the host nation last; the rest enter according to the Russian Cyrillic alphabet. Canada (or Канада in Russian) entered 35th (out of 88), lead by four-time (three at the time) Olympic champion Hayley Wickenhauser, the Queen of women's hockey!
Sochi 2014 Opening Ceremony had a large focus on classical music, including art, music and ballet as well as history. A tribute to Peter the Great and his construction of Russia's first navy (bottom right in the collage below); Peter was a reforming visionary who modernized his country, taking it from a medieval and superstitious country to a modern and rationalist Empire.
Fourteen columns rose from the floor while classical music played as a tribute to Tolstoy's War and Peace. The columns disappeared and the dancers left the stage. Enter the hammer and sickle; the Opening Ceremony covered the Russian Revolution as well as the Soviet period of industrialization.
The Olympic flag then entered the stadium carried by Khamatova, Skoblikova, Popova, Tereshkova, Fetisov, Gergiev, Enileev, and Mikhailov. And the grand finale, the Olympic torch FINALLY entered the stadium. I was very glad to see it as those seats were NOT comfortable at all. I was slightly disappointed that the torch relay around the stadium included so many summer Olympians. I really wanted them to focus on the Winter Olympians.
Tennis star Maria Sharapova brought the Torch into the stadium, handing it off to pole vaulter Yelena Isinbayeva, then gymnast Alina Kabaeva, and finally to figure skater Irina Rodnina (controversial after her tweet on Obama which she originally defended as freedom of speech and later claimed she was hacked) and hockey player Vladislav Tretiak who jogged out of the stadium to light the torch.
It was a bit annoying not to have a cauldron inside to light (as they did in Vancouver) as well as one outside. A big fireworks display occurred next while Tchaikovsky's Nutcracker score played but once again, the spectators inside the stadium did not see any of that.
A great three-hour show (it felt like five). It also included the Russian police choir singing Get Lucky and Russian pop duo t.A.T.u. in the pre-show. The event lived up to my expectations; it even exceeded them. The Russians put on a great show and I could not wait for the Olympic events to get started. Bring on the Canadian gold.
You might also be interested in:
Behind the Kremlin wall in Moscow
Sochi 2014 Men's Figure Skating Long Program
Trip of a Lifetime
.
I am heading to Russia on Friday for a trip that I have been planning for four years: a trip of a lifetime. Actually, it is much longer. I have wanted to visit Russia ever since I was a teenager. I was fascinated by Russia and her history; I even ended up studying Russian history in university. I have planned a trip to Russia three other times; it either fell through, plans changed or I did not want to go on a solo trip. It is finally happening!
I am visiting Moscow first for a few days then heading to Sochi for the 2014 Winter Olympics. I attended the last two Olympics in London and Vancouver; I've always been an Olympic junkie so I had to combine a trip to Russia with the Sochi Olympics. While I would prefer to visit Russia at a different time of the year, cold weather does not faze me. I am from Canada after all. 🙂
My hotel is a quick walk from Red Square; I splurged a bit to stay close to the Kremlin and Red Square. I have tickets to the Bolshoi Theatre  and can't wait to view Lenin's body.
After five days in Moscow, I head to Sochi for the Olympics. I am staying on one of the cruise ships that will be moored in the Adler port near the Olympic park. I have tickets to 15 events at this point and am looking forward to each and every one of the events. This really is a trip of a lifetime! Below is a list of the events I am attending – I hope to see many Canadians win GOLD!!!
This is an ambitious trip: I spent months and years planning this trip of a lifetime. From applying for a Russian visa to booking my hotel and finding a cheap flight, it has taken some time. After watching Canada win the hockey gold (hopefully), I will head to Prague, Czech Republic the next day for five more days. I have always wanted to visit Prague and decided to add-on another city to my already trip of a lifetime. I actually had it narrowed down to Istanbul and Prague. I want to visit both desperately but chose Prague; no idea why but it stood out to me.
I hope to continue posting while I'm over in Russia and Czech Republic. I will at least be posting on social media: twitter, facebook and instagram. So follow me and my adventures of my trip of a lifetime on social media. I'll be more active there than on my blog – of course this all depends on the wifi or when I pick up a new SIM card in Russia for my recently unlocked iphone!
I can't talk about the Sochi Olympics without mentioning the security threat. I am a tad nervous about it and I know I am taking a risk visiting Russia at all, let alone during the Olympics when the threat alert is higher. I just have to believe and hope Russia knows what they are doing and every thing is locked down. Be harsh and kick some ass, Russia. I know their record on human rights and I do not care about anything else at this point other than safety. I can care about the other stuff when I'm home safe.
I have all my Canadian gear, picked up some Russian roubles and Czech korunas, and started packing last night. I am heading down to Calgary tomorrow (I live in Edmonton) and fly out on Friday. I booked a first class ticket to Russia using part visa points and part cash. I upgraded to first class two years ago when I went to the London Olympics; there really is no other way to fly overseas! 🙂
GO CANADA!!!
I am heading to Russia in February and recently submitted and received my Russian visa. It is a fairly complicated process but once you understand the rules, it was completed quickly. I will focus mostly on Canada and their Russian visa application in this post.
First, make sure to check up on rules and regulations of visa requirements. Do you even need one? The Canadian government has a great travel website that lists advisories, security, health, laws, climate and entry requirements for most countries. Click HERE for Russia's page. The United States has a very similar page as well.
Second, go to the Russian embassy to Canada website to find their process. The process can change quite often so make sure to double-check before you go ahead with your visa application. If you note, they made changes in July 2013.
Third, you next must decide what type of visa you require. Most of us will be applying for a tourist visa but there are other kinds such as private (visiting family/friends) and business. We'll focus on the tourist visa for Canadians.
Russian Visa Application
1. All applicants must use the online form HERE (citizens of Australia, Canada, Georgia, UK and USA). You will then print it off on one page (back to back) and sign it.
2. Original passport with two pages free of stamps and valid for at least six months after your departure from Russia.
3. One photocopy of ID page of your passport.
4. One original photo (35 x 45 mm) attached to printed out application. I got mine from CAA. Just remember to tell them it is for Russia since their size requirements may differ from other countries.
5. Tourist voucher and confirmation from a Russian hosting travel agency or hotel registered with the Russian Ministry of Foreign Affairs. There is a reference number on the voucher that you will enter into the Russian visa application.
6. Flight itinerary (if applying for tourist double entry)- a letter from yourself that lists who is travelling, where, when and purpose. I included this even though I was not applying for a double entry visa just in case.
7. Money order, bank draft or certified cheque. Amount will depend on regular processing (up to 20 business days) or rush processing (3 business days) and whether you are applying in person or via mail.
You can apply in person but they only have locations in Eastern Canada so that may be a challenge for some of us that live elsewhere. So if you are near Toronto, Ottawa or Montreal, take the above and go to the Russian Embassy in Canada.
If you live elsewhere, you can mail in your Russian visa application BUT not directly to the Russian embassy. This is one of the new rule changes. You must mail it to a third-party visa agency that is now affiliated with the Russian Embassy – Invisa Logistics Services Canada Ltd. Please go to their website as there is an additional charge so the fee will differ since they are processing it and will courier it back to you. They have a very good website but if you have any questions, email them. I had a couple regarding the vouchers and they responded quickly.
A little more information on the voucher/confirmation – you can have more than one. For my trip, I had a voucher for my hotel in Moscow and for the cruise ship in Sochi. Invisa told me to enter the voucher reference number from my first stop (Moscow) into the Russian visa application since there is only ONE spot for a voucher reference number. You will list in a different spot how many places you are visiting and their addresses but only one spot for the voucher. Make sure to include all your vouchers in the application package.
Now one note on this: I have heard from others that their Russian visa application was rejected due to the numerous vouchers. If you have the time, try it my way first and enter your first voucher number but include all in the application. It worked for me and I received my visa within two weeks. If your application is rejected, you can buy ONE voucher/confirmation that covers your entire time in Russia from a third-party agency such as Travisa, CAA or IVPSC.
One final reminder: for the online application, the "appointment details" is an important part of the Russian visa application. Make sure to select the correct one – this will depend on whether you are submitting online OR mailing it in and the province in which you reside. Invisa lists where each province will submit their application: e.g. Alberta submits to Visa Application Centre (Toronto) and British Columbia submits to Visa Application Centre (Ottawa).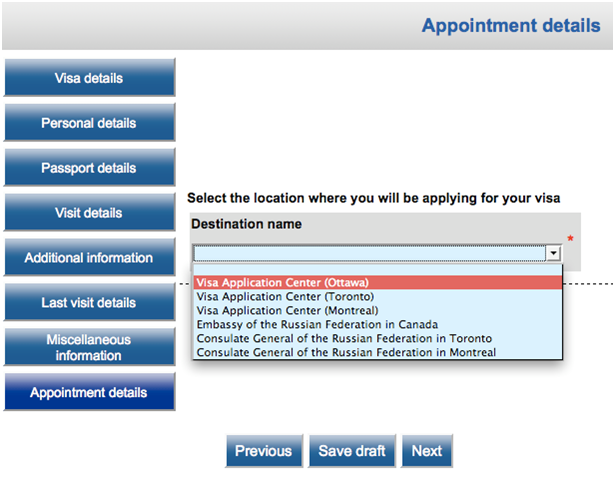 Final reminder: check and recheck your application that you filled the online form out correctly and have all the items for the package. You can save it as a draft and go in and make changes until you print it out; no more changes after printing it. You will have to start over if you do.
You should have your visa within a few weeks and it will be pasted into your passport. You are now ready to watch Canada kick some ass in Russia at the Olympics. 🙂 My hotel is booked and I found a great flight. I can't wait to get to Russia! [Update: I made it and had a great time. Here are a couple posts on Red Square AND the Kremlin]
Have you applied for your Russian visa yet?
UPDATE: There is talk on some of the forums (tripadvisor and facebook) that you need to have the following on your tourist confirmation (voucher) that says "Sochi-2014 – Spectator" (Сочи-2014 – зритель)" on the special field additional information. I have already applied and received my visa so I'm not sure what happens to my visa. I think Russia is using this to expedite visa applications for the Sochi spectators but I am not sure. So if you have not applied yet but have your voucher/confirmation documents already, please contact the Russian embassy or the third party visa agency you are using to confirm what you need.
You can also keep an eye on this thread on Trip Advisor: it is a VERY long thread but has useful information. You may also be asked to provide a copy or confirmation email of your Olympic tickets. The process is changing quickly so keep an eye on all this.
UPDATE: ILS Canada has posted this on their website confirming the above update.