Germany
Neuschwanstein Castle
A trip to Germany is not complete without visiting a castle or two. Germany was my first solo adventure and I had the best time. From enjoying my time at Oktoberfest to taking a trip to Eagle's Nest, it was a blast. My favourite is still probably Neuschwanstein Castle.
The most majestic of all the castles is Neuschwanstein Castle located near the village of Hohenschwangau and the town of Füssen in Bavaria, Germany. With over a million visitors a year, Neuschwanstein Castle is one of the most popular castles in Germany and all of Europe.
The man behind the castle is almost as infamous: King Ludwig II of Bavaria. You may recognize him by a more well-known moniker: the Mad King Ludwig or the Fairytale King.
King Ludwig commissioned the castle in the mid-19th century as an homage to the great German composer Richard Wagner. Many of the rooms are inspired by Wagner's operas as well as medieval Germany.  Sadly, Wagner never visited the castle as he died before its completion. Walt Disney fashioned his castle in Sleeping Beauty after Neuschwanstein Castle.
Building commenced in 1868 following the death of Ludwig's grandfather (Ludwig I) which freed up money that was previously spent on the abdicated King's estate. The great castle was never completely finished due to Ludwig's perfectionism (it is missing the all important throne in the throne room) but Ludwig did move into Neuschwanstein Castle in 1884 but only spent 172 days total in it. Ludwig died in 1886 under very mysterious circumstances; he died together with the psychiatrist who had certified him insane, after being deposed only days earlier.
Neuschwanstein is located in such a fairytale location: situated in the Alps in Bavaria, on top of a hill overlooking a beautiful village and valley. On the day that I visited Neuschwanstein Castle, it was rainy, cloudy and misty. Unfortunately, I was not able to see the iconic views of Neuschwanstein Castle on the Marienbrücke (Marie's bridge which was named after his mother, Marie Friederike of Prussia).
Neuschwanstein Castle was open to the public a mere six weeks after Ludwig's death, filling the coffers of his successors.
Tips for Visiting Neuschwanstein Castle
You may only enter the interior of the castle via a guided tour. I recommend to buy your tickets online to save time; the queue can get quite long. A reservation fee is required on top of the 12 euros to visit or more if you include the other castles and museum (1.8 euros which is reasonable to me) and you must purchase tickets online 2 days before your visit. Tickets can be collected from the Ticket-Center in Hohenschwangau (separate window for reservations) on the day of your visit (bring your written confirmation)
Guided tours are in English and German. If you do not speak these languages, you may purchase an audio guide in Japanese, French, Spanish, Italian, Czech, Slovenian, Russian, Polish, Chinese (Mandarin), Portuguese, Hungarian, Greek, Dutch, Korean, Thai and Arabic
Note for the hiking trail: it may occasionally be inaccessible due to rock-slides – this will not affect visiting the castle nor guided tours
No photography is allowed inside the castle and the tour lasts about 30 minutes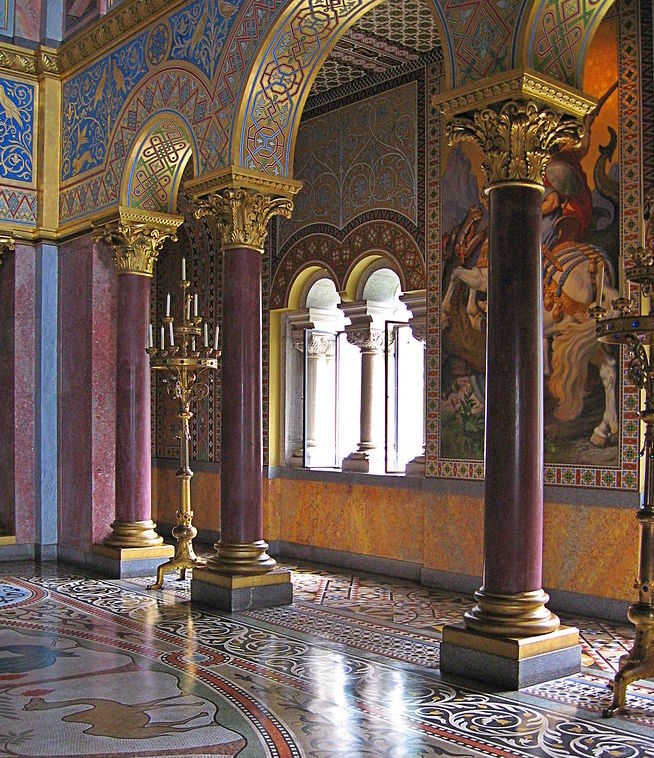 Transportation to Neuschwanstein Castle is simple: train, bus or car
It is a steep walk from the ticket centre – it takes at least half an hour. You may shorten that by hopping on the horse-drawn carriage where you only need to walk about 10 minutes. Price is 6 euros up and 3 euros down the hill
There is also a shuttle bus but as with the horse carriage, it does not take you all the way to the top but stops a bit short. The bus takes you to the lookout point Marienbrücke so you have a short walk downhill to the castle. Departure point: Schlosshotel Lisl, Neuschwansteinstraße and the price is 1.8 euros up and 1 euro down (return 2.6 euros)
Opening hours: 28 March to 15 October: 9 am-6 pm and 16 October to 27 March: 10 am-4 pm
So have you been to Neuschwanstein Castle? Or how about some of the other castles such as Linderhof or Hohenschwangau? Bavaria has the best castles in Germany!
Top 3 Things to Do in Heidelberg
There are many things to do in Heidelberg, a quaint city in western Germany near the Neckar River which dates back to the 12th century. In the 12th century, Konrad of Hohenstaufen became Count Palatine of the Rhine and took possession of the oldest castle and settlement from the Bishop of Worms, establishing the Palatinate line. Heidelberg was devastated during the Thirty Years' War in the mid-17th century and later by the French in the later part of the century.
Martin Luther was received in Heidelberg not long after he posted his 95 Theses; he defended those theses in Heidelberg. The Holy Alliance between the King of Prussia, Emperor of Austria and Tsar of Russia was formed here in 1815. Heidelberg has a fascinating history as does most of Germany. It was lucky to escape bombing during World War Two and is therefore quite well-preserved.
I visited Germany back in 2008: it was my first SOLO trip and I had such a great time. I toured around Germany (Berlin top travel tips) for over three weeks (including Eagle's Nest, Germany) and simply fell in love with the country (Oktoberfest tips). Heidelberg is a great city to visit and I enjoyed two lovely days in this lovely city.
Heidelberg Castle
Heidelberg Castle is really the top on the list of things to do in Heidelberg. It was constructed in the 13th century and is in the gothic and renaissance style; partially destroyed during the Thirty Years' War and the Palatine War of Succession in the 17th century plus a lightning strike in the mid-18th century. Eventually all attempts to restore the castle were abandoned. The castle was later used as a quarry and stones were removed to build other houses in Heidelberg. Attempts at preservation occurred in the 19th century.
The wine cellar in the Heidelberg Castle holds the largest barrel in the world (over 55,000 gallons of wine).
It is a STEEP hike to Heidelberg Castle as it sits atop a hill. You can take bus line 33 to the top or Bergbahn (funicaular rail) instead or go for a hike.
Palace interior may only be seen on a guided tour. The time differs per season so check their website for more info. The castle/gardens are open 8:00 am to 6:00 pm daily. Palace entry is not expensive: 6 euros for adults plus an additional 4 euros for a guided tour.  You can also check out the Deutsches Apotheken Museum (German pharmacy museum) which is located inside the Castle.
Old Bridge
The Alte Brücke is a stone bridge was built in the 18th century after the original was destroyed by fire (it was made of wood which dated back to the Middle Ages). The medieval gate still exists. You can view the Castle from the bridge and enter the Old Town through the gate. The market square is a wonderful place for souvenirs or shopping as well.
University of Heidelberg and Old Town (Altstadt)
The university is the oldest in Germany; founded by Rupert I and chartered by Pope Urban VI in 1386. It is known as a university city with over 28,000 students in a city with a population of round 150,000.  Old Town is a great area for shopping, visiting the university or museums (the student prison in particularly interesting), and not far from the Castle.
 Tips for Visiting Heidelberg
Two nights in Heidelberg is plenty of time to see the city
Consider visiting in the fall. I visited in October and enjoyed the cooler weather, fewer tourists, and beautiful fall colours
Heidelberg is a very walkable city; wear some good shoes and you can walk for hours or hop on the trams/buses
The Heidelberg Card will save you money – it covers the Castle, 12 museums, public transportation, walking tour, and a city guide. Price starts at 10 euros and can be bought at main train station or transport machines around the city
Give yourself at least three hours or half a day for the Heidelberg Castle – you will need that much time (maybe more) to tour the inside, the gardens, the pharmacy museum, and the grounds. If you are walking to and from the Castle, add another hour to that
Take a stroll down the river banks particularly during the summer months; great place for a picnic
Stay in a hotel near the Old Town. I stayed way too far away and it would have been nice to walk around the Old Town in the evening after a day of sightseeing
Berlin Travel Tips
Berlin is well-known for its nightlife but you cannot discount the culture and history of the city. It is a fascinating city that was separated by a WALL for four decades; a city that was a part of two different countries. It is a very unique city: west and east that have come together to be one. However, the city's history goes beyond the past century. It dates back to 13th century and it was the capital of the Kingdom of Prussia for three centuries before becoming the capital of the unified German Empire in 1871 and would once again become the capital of a unified German state after the fall of the Berlin Wall in 1990.
When To Go?
If you do not mind a bit of cooler weather, I would recommend spring or fall. There are fewer tourists which makes a big difference. I went in the fall: the colours are beautiful. The weather is a bit cooler (15 degrees Celsius maybe) but you're walking around the city so you warm up quickly. But you really can't go at a wrong time; the city is buzzing all year round!
Where to Stay?
Berlin is a fairly large city so be careful about where you stay. I was using airmiles so I wasn't particularly picky about where I was staying but I realized later that it was not the best area. Decide on your price and pick a neighborhood or location where you will spend a lot of time: maybe Mitte or Prenzlauer Berg? Just try to stay a metro stop: that is always my number one consideration. Berlin has MANY hotels so you should be able to find one for a very good price or really cheap if you stay at a hostel.
What to See?
There are too many places to list but I will mention my favourites!
1. Museum Island – there is a small "island" in Berlin that is the home to Berlin's state museums. These are just a small list of museums in all of Berlin but they are my favourite. You can also visit Berliner Dom while on the island; it is not far from the museums and is free to visit. My top choices are:
Neues Museum is where the Bust of Nefertiti is located along with the rest of the Egyptian museum and papyrus collection. The museum collection also contains a Neanderthal skull and Heinrich Schliemann's Trojan finds. This is a spectacular museum and one of my all-time favourites.
Altes Museum which houses the antique collections (divided with the Pergamon Museum) such as a large Greek collection including the treasury.
Pergamon Museum which contains more antiquities such as the Pergamon Altar and the Market Gate of Miletus from what is now Turkey. It also contains sculptures and art from the ancient world such as Hellenistic, Greek and Roman.
2. Checkpoint Charlie (and the museum) – the checkpoint may not be operational anymore but some of the signs still exist plus there is a museum with lots of photos and stories about escapes.
3. Schloss Charlottenburg – I was lucky enough to attend a classical concert at this palace where the musicians were even dressed in 17-18th century garb. The music was of course W.A. Mozart (there can be no other) and J.S. Bach. This used to be the summer residence of the Prussian kings and it is lovely.
4. Reichstag – one cannot visit Berlin and not stop by the German Parliament. You can book free tours or visit the dome at the top. You may need to book in advance as they allow only a small number of people into the building each day.
5. Brandenberger Tor – a short walk from the Reichstag is the Brandenburg Gate. You walk down a lovely park area with trees on both sides to get to the Gate. Once again, the colours are very vibrant in the fall. The Gate was commissioned by King Friedrich Wilhelm II of Prussia in the late 18th century as a sign of peace. It was right beside the old Berlin Wall and is now part of a cobblestone pedestrian area.
How to Save Money?
First, get the Berlin Welcome Card. This is a favourite of my Berlin travel tips! You can save a lot of money on museums, transportation, maps, etc depending on the card you select. If you plan to visit museum island, there is a card that covers it (one example: three day pass for 38.50 euros which covers museum island, reductions of 25-50% to more than 200 tourist and cultural sites, free transportation depending on the zone you select which may include the airport, city map and guide plus shipping to your home before you travel to Berlin).
Second, if you don't get the welcome card, get the Berlin Museum Pass instead which covers many museums in the city for 24 euros for three days. It covers 50 museums in the city including Museum Island, the Jewish Museum and the New National Gallery. You can get the pass at the Berlin Tourist Info or all participating museums.
Third, sign up for a bike tour or straight out rent your own. It is a cheap way to tour around the city. There are several to choose from so just google it and go from there.
Fourth, street food is good and delicious plus also very economical. There is a good variety and you will save some moolah! Look for "Imbiss" food stands: good Turkish food. And try the currywurst – Berliners are known for it. And it is delish! There is even a currywurst museum near Checkpoint Charlie (no, I did not visit)! And of course, BEER!!!!!
Fifth, visit the parks especially Tiergarten. It is near the Brandenburg Gate and is a lovely place to rest, have a picnic or to enjoy the scenery!
Sixth, the Topography of Terror is a free outdoor museum. Over a million people visit each year and is located on former grounds of the SS and Gestapo. This outdoor museum is open daily 10 am to 8 pm.
Lastly (thanks Tamason), try the free walking tours. I usually join one and they provide a good overview of the city and provide some history as well.
Getting Around
Berlin is a very easy city to navigate. The transportation system is excellent plus there are many areas you can walk. Bus 100 passes most of the top touristy sites. Or rent a bike to travel around the city as I mentioned above. You can use the trains (U-Bahn or S-Bahn) as not everything in Berlin is nearby nor on the bus route. The trains are easy to use.
The Language
Berlin, along with most of Germany, are fairly well versed in English. They may even speak better than English than you. You probably don't need to learn German BUT I am a fan of learning the language of the country you are visiting. If you do not wish nor have the time to learn German, at least learn a few key phrases. The locals will appreciate it and will respond in English to you. I spend six months learning German and rarely needed to use it. A good rule: Germans under 40 will likely speak English but those over 40 may not. I encountered many older Germans who did not know one word of English.
Where to Spend Your Saved Money?
Kurfürstendamm (Ku'damm for short) is the shopping district where you can spend, spend, spend until you are broke. You can also find the KaDeWe (Kaufhaus des Westens) – it's a massive shopping mall.  Or visit Mauerpark on the weekend for the flea markets! These are all great places to shop and top of my Berlin travel tips!
What About the Nightlife?
Berlin is a jumping city. Go and explore at night. When I was there, I met some people and we hopped into a cab and asked him to take us to a nightclub. We hit up a few that night and for some reason I cannot remember the names of the clubs. Was it the beer? 🙂 But go and have fun. It is a nightclub paradise. Ask the locals where to go or your hotel/hostel. They should know the places to be.
Have fun in Berlin! Have you gone yet?
You might also be interested in:
Top 3 Things to do in Heidelberg
My Favourite Travel Food – Sauerbraten
Eagle's Nest Germany
One of the most memorable moments in all my travels was a visit to Eagle's Nest Germany. It is also known as das Kehlsteinhaus and is in Berchtesgaden, Germany. I always refer to it as Hitler's Lair since it was commissioned in 1937 as a 50th birthday present for Adolf Hitler (ready in 1938). Hitler would only visit it a handful of times since he was fearful of heights. To reach Eagle's Nest, you take a very narrow and windy road to the summit. It is not for the faint of heart. Check out this short video that shows the road and other views from Eagle's Nest.
I did not enjoy taking a bus on that road. It is a very narrow road where you can see alllllll the way down. I was on window facing out on the way up. I made sure I switched it up for the ride down. I don't normally have a fear of heights but being able to look down was a bit scary! Oh and it is NOT a one-way road. The Germans coordinate the trips up and down so the buses pass each other on the two lane areas. Yes those Germans are efficient! 🙂
I took a day tour from Munich. Half way on the tour, we stopped for lunch. This was my view as we had a tasty German lunch!
Before our lunch was completed, the clouds parted and this became our view next. Nothing better than enjoying a German meal and beer with this view!
After a crazy drive along a narrow road and several tunnels for 6.5 kilometres, you arrive at the top. Take the elevator to the top (120 metres) and this is the view. WOW! Here is a map of the route.  Once you reached the top of Eagle's Nest Germany, it was worth the nerve-wracking drive. You take an elevator through a tunnel in the rocks. The panoramic views are incredible.
6017 ft or 1834 m high !
Tips for Visiting Eagle's Nest
Visit between May to October as it is closed otherwise
Wear a warm sweater as it gets a bit cool and windy at the top
You cannot drive to Eagle's Nest yourself – either sign up for a tour from Munich or Salzburg to cover the whole trip or drive/take train to the parking lot at the base of the mountain (Obersalzberg museum area) where you can catch the bus to the summit. Click

here for more info

!
You may also walk from the bus start area to the top – probably takes two hours and you must stay on the designated footpaths
You do not need to reserve it advance but it gets pretty busy so come early
Sit, enjoy and take in the beauty!
A trip to Germany (or Austria) is not complete without taking a day to visit Eagle's Nest. Yes stop by Oktoberfest but Eagle's Nest Germany is a close trip. Have you travelled there yet?
With Oktoberfest about to begin this weekend, I started thinking of my favourite memories of Germany. First is Oktoberfest and all the fun I had drinking with all the Germans and tourists like myself. Second is the food. I loved the German food. My mother's family are German so I have always been fascinated with all things Deutsch! German food was not a staple in our house: we were more of a meat and potatoes family (very Irish which happens to be the background of my father) so I was very excited to visit Germany and check it out first hand.
From bratwurst to apfelstrudel to currywurst to käsespätzle (noodles with cheese) to schnitzel, I did some good eating in Germany. However, my favourite travel food was and is SAUERBRATEN!
So what is Sauerbraten? German is very straightforward to translate – sour beef. It is a very simple recipe as well. You marinate the beef roast (usually a tough cut of meat) for a minimum of three to four days in a mixture of vinegar or wine, herbs and spices. Then you simmer the meat in the marinade for several hours and you end up with a very tasty and tender roast. Different areas of Germany will have their own versions and add their own mixtures.
It was made originally with horse meat but thankfully we have moved away from that. If you want horse meat, go eat at Ikea. 🙂
Rheinischer Sauerbraten adds raisins and gingerbread to the sauce while Swabian Sauerbraten has no sweetening or raisins. You serve it with potatoes, dumplings or noodles such as Spätzle.
I wish I had taken pictures when I was in Germany but I'm one of those people who NEVER takes pictures of food. But take my word for it and try it out. My German tutor Catrin told me to check out currywurst and sauerbraten so I have to thank her or I probably never would have ordered it.
I plan on trying my hand at this soon. When I do, I will take pictures and update this article with my attempt. I think I shall try this recipe or this one unless anyone has a better one.
So there you have it: my favourite food during my travels. Of course I adored the pasta in Italy and pastry in France but nothing beats Sauerbraten!  So what is your favourite travel food?
Oktoberfest Tips
The month is October. The year is 2008. Yours truly had ventured to Germany on her first ever solo trip. I was nervous about travelling solo but a friend recommended it so I figured, "Why not? Let's give this a try." I arrived on October 2nd in Munich, Germany a bit apprehensive. I had spent the previous six months learning German, even though I was told most spoke English which was true, so I was ready to let loose.
I had planned my entire trip before I left. I was more comfortable having all my hotels booked in advance since this would be my first solo trip.  Due to expense, I only planned on staying in Munich for two days during Oktoberfest. I would return three weeks later after my tour of Germany to spend a few more days before I flew back home to Canada.
Oktoberfest is incredibly expensive. Prices double or increase dramatically. I found a nice hotel near the main train station and not far from the Oktoberfest grounds. I would stay in this hotel for both of my Munich stays; the second stay say the price drop by 100 euros. Yes that is crazy. No I was not prepared to stay in a hostel. This was my first overseas trip alone and I wanted the security of a hostel. Plus, I've never been keen on hostels. In fact, I have never stayed in one. I do not plan to in the near future. Maybe….if I ever do a long-term travel.
I made my way to Oktoberfest and man it was crazy. Thousands of people milling around; many dressed up in lederhosen or dirndl. It was delightful and made me wish that I had come dressed up. Next time for sure. I did make my way into a few tents but they were packed and not a spare seat. I wandered around, found a few stand-up bars on the grounds, drank a few beer with some lovely Austrians and had a great time.
History
Even wonder why the Germans get together for a fun and beer filled two weeks?  No, it is not to celebrate the deliciousness that is beer. That would be a reasonable deduction but there is a long history associated with Oktoberfest.
Crown Prince Ludwig, later King Ludwig I, married Princess Therese of Saxony-Hildburghausen October 12, 1810. The citizens of Munich were invited to the festivities in the fields near the city gates. This field would later be renamed Theresienwiese to honor the Crown Princess. The event was repeated the following year. In subsequent years, it was prolonged and moved to September due to weather.
Oktoberfest Tips

1. Book your table – I figured because I was travelling solo, I would find an empty seat no problem; that was not the case.  Those tents are packed full. Book your table AND book early – that is my Oktoberfest tip numero uno! My guess is at least six months in advance or maybe more. You will not get served in the tents if you are not at a table.
You have to book directly with the tents. Oktoberfest's website is not the best so you will have to click around quite a bit to find the contact information for each tent. When I return, I will probably book with the Augustiner tent. Augustiner is my favorite beer, ever!  And sadly, I cannot get it anywhere else but Munich. I have found other Oktoberfest/Munich beers in Canada but it is very rare. 🙁
Here is a link on how to reserve your table and a list of the tents and their contact info.
2. Timing – Do NOT go the last weekend of Oktoberfest (which is the first weekend of October). My dates simply worked out this way so I was there during the German national holiday (German Unity Day) and Oktoberfest is absolutely packed crazy. My second day in Munich landed on the holiday and it was almost impossible to get into the Oktoberfest tents, the grounds or hell, even any of the beerhouses in the city. It was nuts. Remember that Oktoberfest starts in mid-September and ends the first weekend of October.
3. Research – Before booking any tents, research which ones you want to be in. They are not all the same. You may be required to book a table of 10 even if your party is not that large or buy vouchers for food and drink in advance. Each tent is different.
4. Winging it – Yes I was able to get into the tents but could not find a seat. I had gone quite late in the day so if you do not want to book a table, go earlier in the day to snag a seat for yourself or your group. If you get into a tent, DO NOT LEAVE IT. You do not want to lose your table.
5. Accommodation – Just like booking a table in the tents, book your accommodation just as early. In fact, it may be necessary to do it earlier. I booked my hotel in February and the selection was limited. So the earlier is always the better in the case of Oktoberfest!
6. Drink up and have fun – Don't be an idiot and chug the beer. That is ONE LITRE of drink (ein Maß) and you will be a sloppy drunk in no time, just like this little fella above. Enjoy the festivities: the singing, the dancing and the cheering and toasting (Prost). You will catch on to the drinking songs after an hour or two. If you are worried you will not be able to follow along, practice before you go. It is lots of fun singing German drinking songs while throwing back a litre of beer. 🙂
7. Explore the City – Take time out from the beer to visit Munich. It is a fantastic city with many beautiful churches and museums. It would be a shame to just go to Munich for the beer (yes it is damn tasty)!
That is my top Oktoberfest tips. It is a great trip to take and I highly recommend that you visit Munich and Oktoberfest. I plan on returning on at some point but with a large group, see my Travel Bucket List for more details!
Have you been to Oktoberfest?  Share your experiences or Oktoberfest tips!
Do I have a travel bucket list? There are certainly a list of countries I want to visit before I perish. That is true but I have never written it down.  Now is the time to collate all those thoughts from my brain (there are A LOT) and come up with a list. I have decided to do a top ten travel bucket list. The trouble will be narrowing my thoughts into ten. 🙂 I had started this list the other day but after reading Backpacking Diplomacy's bucket list and seeing we shared a couple in common that I had already put on my list, I figured I should get going on mine and finish it.
The Travel Bucket List
1. Russia – Russia is the first on my travel bucket list. No surprise to anyone that knows me. I have studied Russian history for years and have been obsessed with the country for decades. My first memories of Russia are during the late 1980s during the Winter Olympics. Canada was hosting the games in 1988, in Calgary, and the whole country was on the edge of their seat. Russia existed in the form of the Soviet Union, the  so-called 'evil' comrades from Russia and several other eastern countries.
My memories are pretty scattered from that time. I remember the Battle of the Brian's, the Jamaican bobsled team, Elizabeth Manley's unexpected silver medal and Karen Percy kicking ass on the hill. The other memory is one of dislike. There was a lot of dislike for the Soviet Union and all the Eastern Bloc countries. I was young and did not like that so from that moment on, I decided to cheer on the commies (all of them). I did not like that no one liked them. Seriously, that was the reason.
I do not remember when my love of Russian history started but I can only assume it was around that same time. I read up on Peter the Great, Catherine the Great, Ivan the Terrible (actually translated incorrectly – Grozny is closer to formidable or threatening), Ivan the Great, and so on. I only ended up studying Russian history in university by accident. I had planned on majoring in German history, as my mother's family is German, but switched to Russian when the German professor retired and the university did not replace him immediately.
Why Russia? There is so much beauty and history in Russia. From the Kremlin to Red Square to the Heritage to Peter and Paul Fortress, you will need weeks to visit this beautiful country. I am very excited that I will be crossing this item off my bucket list very soon. I will be going to Russia next February for the 2014 Winter Olympics in Sochi. I am also planning a few extra days in Moscow. Well, I will not be able to cross it off entirely as I will not have time to visit the Golden Ring, Novgorod and St. Petersburg. Plus, a trip on the Trans-Siberian Railway is a must-see (see below, I had to separate it out since that is a massive trip in itself). I hope to check off St. Pete during a Nordic trip. Maybe a cruise of the Baltic Sea??
UPDATE: I finally made it to Russia. HAPPY HAPPY. I stopped by Moscow and Sochi for the 2014 Olympics. In Moscow, I enjoyed Red Square and the Kremlin!
2. A Cruise – I have always wanted to take a cruise.  Whether it is an Alaskan, Baltic or Mediterranean Cruise, I definitely plan on making this happen. I lean towards a Baltic Sea cruise since I think that will be the easiest way to hit up Norway, Sweden, Finland, Denmark and St. Petersburg in one trip and a good introduction to all those countries. I can always return on a separate trip, or trips, at a later date. I am a bit concerned that I would end up sea-sick. I live inland; we do not have a lot of water in Alberta. I did grow up in Manitoba which is the province of lakes but not oceans. I still think this would be a fun way to travel around an area.
3. African Safari – I have only recently been thinking about hitting up Africa as I have only even wanted to visit Europe. Now? I have such a yearning to visit Africa on a safari. How fun would that be? Obviously, I want to see the big attractions, known as the Big Five. I live in a very northern city in Canada (Edmonton – great city but we are quite north) so we do not have many exotic animals in our zoo. I just do not have the opportunity to see these majestic creatures often. The Big Five are: Elephant, Rhino, Cape Buffalo, Lion and Leopard. These were coined by hunters and are not the only animals I would love to see in their nature habitat. Others are Giraffes, Cheetah, Hippos, Gorillas and many more. I want to see them all. Maybe even go on a hunt? 
4. Egypt – This is the easiest one to put on a travel bucket list. Who does not have this on their list? And if you do not, what the hell is wrong with you? 🙂  Come on – pyramids, mummies, cruising down the Nile, ancient temples and on and on. Sadly, there are serious troubles going on in Egypt and have been for several years. I really hope they can figure things out. There has been too much death and I hate to see such a beautiful place crumbling from within. I really hope things work out for them. Of course, I want this to happen as quickly as possible. I have pushed back a possible Egypt trip for a few years. I have an opening in 2015 – hint hint. I want to come visit. 🙂 
5. The Tropics – As I mentioned, I have rarely wanted to even venture outside of Europe but as I look toward Africa, my eyes have started looking at visiting some place warm. I refer to this as "The Tropics" since it really covers many, many, many, many countries. Maybe I will go to Mexico, Bora Bora, Turks and Caicos or Hawaii. I really have no idea which country I will visit for my first warm vacation but I know one thing, it will be an adult-only resort. Ha, sorry no children allowed. Thank you! 🙂
I will try to relax on a beach, trying not to plan every minute of my trip, with a cocktail or twenty. There are quite a few activities you can do other than relaxing on the beach with a beverage in your hand. You can go horseback riding, take a boat ride, go scuba diving or snorkelling. That is usually not my jam; I am more of a museum and castle girl. I have not met a castle I did not love. I have not met a museum I did not want to marry and live happily ever after. 🙂 I hope to take that tropics trip in the next 12-18 months.
6. Group trip to Oktoberfest – I went to Oktoberfest back in 2008 as I took my first solo vacation. I toured around Germany for twenty-five days and had THE BEST TIME EVER. Ever since that trip, I have travelled solo to Europe two more times and I highly recommend a solo trip to every single person out there. Do it. Now. Great people and food!!!
I popped into Oktoberfest in Munich for two days but in honestly, I was there one afternoon. It was the last weekend of Oktoberfest which also coincided with Germany's national holiday so it was CRAZY busy. I suggest going earlier and avoiding that last weekend. I had a great time, met some lovely people from Germany and a couple cute Austrians in their lederhosen and had the best time. I do want to return with a group of friends because I think it will be a lot more fun to take a group of friends to Munich. 
 7. Santorini, Greece – I took a one day tour of three islands when I visited Greece back in 2011. I went to Hydra, Poros and Aegina and they were so damn lovely. I want to return to hit up Santorini, the most famous of all the Greek islands. I know several people who have gone and loved it. I think a return to Greece is needed. I did not have the time back in 2011 to add a few days in Santorini as I was also heading to Italy after my 9 days in Greece. I regret not making time but I will return. 🙂
8. Venice, Italy – This travel bucket list shares the same reasoning as Santorini. I simply did not have the time to add it to my Greek-Italian vacation in 2011. I chose Florence over Venice because I wanted to see Michelangelo's David which was absolutely worth the trip. However, I have had my eye on Venice for many years and would love to visit. There are so many museums, churches, bridges and canals to gaze upon! Plus who can refuse a gondola trip down the canal.
9. Riding the Trans-Siberian Rail – I am not sure why this sounds so appealing but hitting the rails to make my way from Moscow to Vladivostock (seriously, how is that not the best city name ever? Just rolls off the tongue) sounds like a great trip. It is one of the longest rail trips in the world at 9,258 km; takes six nights and seven days to complete. You can also go to China or Mongolia as it links up with the Trans-Mongolian and Trans-Manchurian lines or stay in Russia.  All three sound great to me.
[Edit: Just found this fantastic article on How to Travel the Trans-Siberian Railway. Some great tips for stops such as Yekaterinburg and Kazan]
10. Camel Ride (or Elephant) in the desert – This is pretty self-explanatory. Who does not want to ride a camel or elephant? That would be totally fun. Wheeee!!
Well there you go. That is my travel bucket list (for now). I hope to cross a few of these off my list in the next year or two. There is nothing like travelling; it is better than sex and chocolate. 🙂
So what's on your bucket list?